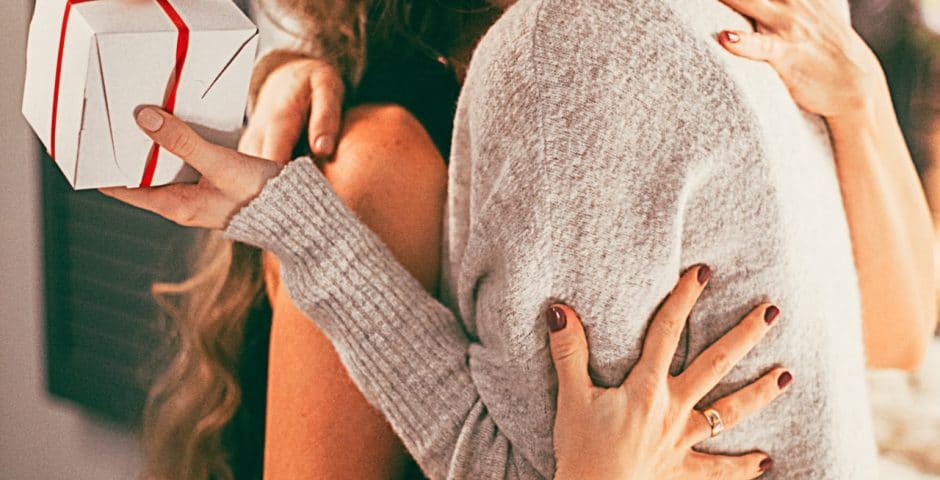 30 Best Meaningful Gifts Every New Mom Deserves
New motherhood is both magical, and also really, really…well exhausting. That is why we have come up with the most thoughtful gifts possible. These include practical and pampering gifts as well as some really supportive ones that will mean the world to the new Mama! 
Share Meals- You can team up with the mom's other loved ones and organize a meal calendar where you all take turns dropping off meals. Make your best dinner or soup you can freeze, and give it to the mom to use on a night when the family is too exhausted to make dinner. Even better, any leftovers will work well as lunch for the family the next day. 
As another option, gift cards to Grubhub make great new mom gifts because the family can pick out exactly what they want.
Subscription Meal Deliveries- Healthy Chef Creations have a Healthy Mommy and Baby menu. This is such a great gift. Absolutely perfect!  There is also this plant-based meal delivery company called Veestro!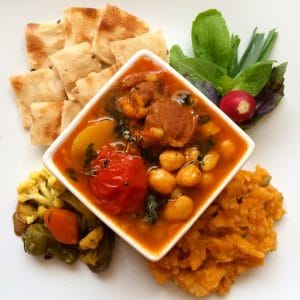 Smoothie delivery- Keep the mama healthy and nourished! Daily Harvest has great smoothies and delivery system (you will need to check on their website if they deliver in her area).
Snack basket- She will need quick snacks on hand for herself, so you could get a basket and fill it up with food, for example, nuts, fruit, healthy snack bars like carrot cake Larabars and so on. You could even add a reusable water bottle (this one is a beauty) to help her keep hydrated!
Instant Pot– These are the best and will be a winner for many years to come! The Instant Pot will help her prepare quick, easy, and healthy meals.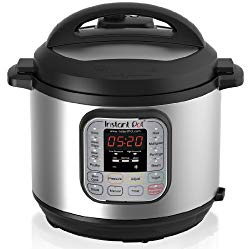 2) Support Lactation 
 Whip up a batch of lactation cookies as a gift to the new mom, then drop them off. She will get to snack on a treat while feeling good about it! Here is a tasty recipe you can make from scratch or you can get a lactation cookie mix. You can also gift her some Traditional Medicinals Organic Mother's Milk Tea.
Hire a Postpartum Doula- Postpartum doulas are trained to understand what new babies – and new mothers – truly need. The doula helps with soothing techniques, offers breastfeeding or bottle feeding support, and explains normal newborn behavior. Some doulas will even do light housekeeping, run errands, prep meals, and anything else you need during the newborn phase. To find a postpartum doula use this Doula search.
3) Get Her Comfy 
See if you can buy her a gift card to see her local chiropractor. Lots of women have back pain after birth and an adjustment is sometimes just what they need!
Cushy form Sciatic Nerve Pain Relief Knee Pillow by Cushy Form – Improves circulation for side sleepers, use as knee spacer during pregnancy or post surgery recovery, assists with restless leg syndrome.
Womens Indoor Warm Fleece Slippers – Keep her feet warm when she has to get up and tend to her baby quickly.
Sleepwear- The new mom will want to wear something comfortable in the first few weeks postpartum!    These pajamas are a favorite, look great and come in several colors. Or you can get some short pajamas for summertime.
Hoodie Sweatshirt with Baby Carrier – These are so handy and look great too!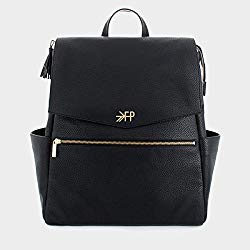 4) Give Her Some Precious Time
Offer to hold her baby while the new mom does what she needs to take care of herself. She may want a shower, a leisurely bath, a nap, a walk by herself, or just to run to the store alone.
Get her out of the house Find mommy and me classes in her area and buy her a gift card. For example, a local class. These classes can be a lifesaver and give mama some much needed social interaction. She will have the opportunity to make new friends with other moms who have newborns and got some gentle exercise for her postpartum body too.
Take an errand off her list. Most major grocery stores now offer delivery services, which are an amazing timesaver for new parents. You can ask her what she needs at the store, then have it delivered – or you can give her a gift certificate for grocery delivery and let her order exactly what she needs. You can also try AmazonFresh grocery delivery service.
5) Self-Care
Sitzing Pretty Bath Tea– I love Spoiled Mama products! For Mamas who've had a vaginal delivery, this Sitzing Pretty bath tea is a great way to bounce back to your normal self. This postpartum sitz bath blends organic herbs such as shepherds purse, yarrow, and goldenseal to aid in healing and restoration. Meanwhile, calendula, chickweed, and plantain provide soothing, styptic and antibacterial properties. Includes reusable muslin bag for your convenience.
Tummy Butter for Stretch Marks – As your body recovers, postpartum skin care is more important than ever. With sudden weight loss, your skin is prone to stretch marks — and for Mamas who came out with a new stripe or two, this is a critical time to treat those new stretchies. With vitamins A & E and essential fatty acids, this postpartum Tummy Butter helps promote elasticity, repair damaged skin and increase cell regeneration for bouncy, youthful skin.
 Organic Sitz Bath Soak For Natural Postpartum Care Recovery & Hemorrhoids Relief – It probably takes a bit longer to heal than a new mom may have originally planned. And while she's going through this recovery, she will greatly appreciate anything to make it easier on her. We highly recommend pairing this gift with a genuine offer to watch baby while she takes a bath, locked in with a glass of wine and candles.
Fix that Sucker Nipstick Nipple Cream for Sore Nipples – A best friend sees you through blood, sweat, and tears. And that's why Nipstick is your newest BFF: Breastfeeding Friend!
Monthly Self-Care Subscription from Ecocentric Mom – This lucky mom will receive 4-6 practical and pampering items just for her (note this is not a pregnancy or baby related box – it's all about self-care for the busy mom.) Her products will include beauty, bath, home, baby care, wellness, snack and lifestyle accessories. 
Spa Service- Give her a guilt-free experience she will appreciate with a gift certificate for a massage, mani/pedi, or anything else you know she would enjoy. If you wish, you can add a note along with the gift certificate, "I will come over to babysit when you book this!"
Bring the Spa to Her – Help the new mom feel pampered by putting together a few of her favorite bath and body products in a basket such as: shampoo, body wash, moisturizer, facial masks, body lotion, or dry shampoo. As another option, you can get her a gift card for an in-home massage with the Zeel app. With Zeel, she can book an in-home massage with just an hour's notice.
Jewelry 
Meaningful Necklace- These Chic Disc Necklace with Birthstones are gorgeous! A mom necklace also makes the perfect gift because if she has any other kids later on, she can add more pendants to it, and you can get them in either silver, gold or white gold: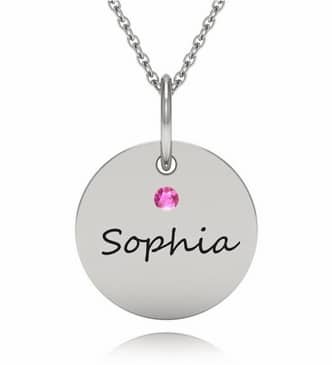 Family Necklace–  Similar to the one that Heidi Klum wears, this necklace can be customized for you with small, thin 14K gold filled or sterling silver charms. Each charm measures 3/4″ in diameter and can be engraved with up to 7 letters or numbers. Hangs on a beautiful shiny cable chain.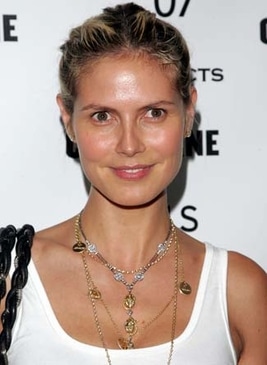 Clean House
Give her a clean house- Most new parents have trouble fitting in house cleaning on top of everything else, so scheduling a house cleaning service would be a much-appreciated gesture. Of course you would need to feel out the situation and see if they won't get offended. I strongly doubt they will though!
Help Out- If the new mom is a close friend, you can stop by to visit and then pitch in to help out around the house. You can fold a load of laundry, load or empty the dishwasher, wipe down the kitchen counters, and so on. However, keep in mind that having visitors in your home can be especially draining for new parents, so try to keep your visit on the shorter side.
Get her a robot vacuum–  These are magical and such a lifesaver! They will help save her some worry about the state of the house. Especially if they have pets!
Get her a Lightweight Vacuum – These are not the cheapest gift, however, they are awesome and she is certainly going to need it. These are light and super easy to quickly grab and clean the floors. They work really well too!
Keepsakes
Write a letter- This gift doubles as a keepsake that the new mom will treasure forever. Write a special handwritten letter to her to share encouraging words, happy wishes, or any words of wisdom you want to pass along. If you are not sure what to write, just let her know that she is doing a great job. Or if you want writing prompts, you can get these Letters to the New Mom prompted letters and give her 12 special letters. Sign the letters, seal them with the enclosed stickers, and give the completed book to the new mom. She will treasure your words well after her baby is all grown up!
Books and Wisdom
Share wisdom- Moms always appreciate some loving guidance, wisdom, and support—and that is what she will find in this beautiful kit. Check out The Mother's Wisdom Deck. During a daily or weekly routine, the new mother can select a card from the deck and find an empowering message with ideas for reflecting on how to be the best mother and person she can be. This deck is a beautiful reminder to slow down and appreciate the sacred moments of motherhood.
 Reading– The new mom will spend a huge chunk of every day holding her baby. So gift her a lightweight Kindle that she can hold one-handed while holding the baby too. She will get caught up on all that reading she has been meaning to do and keep her sane! Or as another option, you can give the new mom the waterproof Oasis version of the Kindle so she can take it in the bath with her, too. You can load her new Kindle with these titles, or if she prefers paper get her the physical books: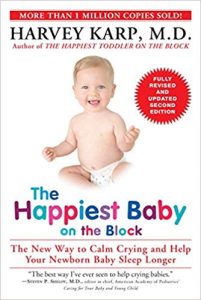 The Read-Aloud Handbook – This book will help her to raise a lifelong reader right from the start. Plus, the annotated list of great read-aloud books at the end is pure gold. It's never too early (or too late!) to read aloud to your little one.
Entertainment
Give her unlimited entertainment. The new mom would appreciate a membership to any movie streaming service. If you gift her with Amazon Prime, in addition to the unlimited movie access she will also get free two-day shipping on any items she orders for a year, which is perfect for when you run out of diapers but you are too exhausted to load baby up to run to the store.
Fun
Mommy's First Milestones – Wine Bottle Label Gift – Set of 4 – These are wonderful for a little laugh and even better to let the new mommy know she is not alone. Each of these 4 milestones for mommy are significant life firsts, and commemorating them is a way of inducting her into motherhood. First date night, first girls' night out, baby on th
e move, and our favorite: first public temper tantrum – these are all events that deserve a good bottle of wine 🙂
Thanks for reading!
As promised, my husband's video using the Sony Alpha 6300 Camera: