Best Healthy Fall Chili Recipe – Mother's Lifestyle Kitchen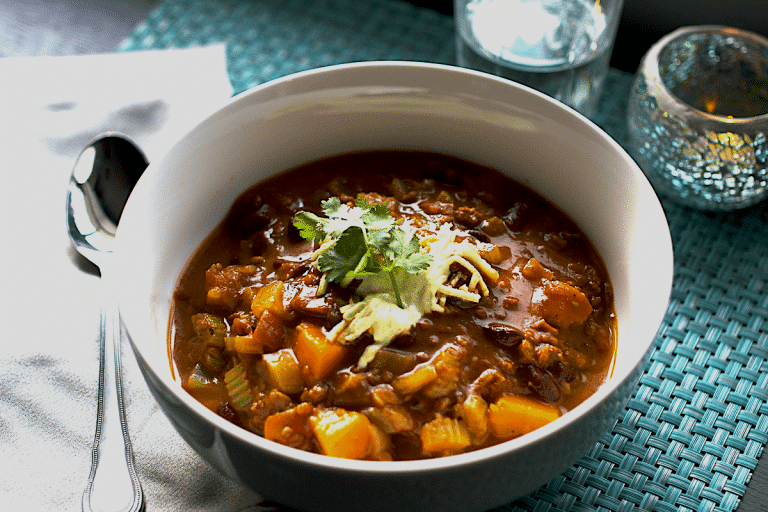 Hi, I wanted to share a super easy chili recipe with you all! I absolutely love this because you can easily make substitutions and add whatever veggies you like. So, you can use up what you already have in your kitchen.
This chili can also be made not spicy to suit your family if you wish!
My secret ingredients are unsweetened cocoa powder and Hungarian paprika powder of course. I hope you enjoy it! ?
HEALTHY FALL CHILI RECIPE
serves 4 – Prep time 10 mins- Cook time 30 mins
INGREDIENTS
• 2 TB olive oil
• 1 onion, diced
• 2 stalks celery diced
• 1 carrot diced
• 1 zucchini (or any veg you have)
• 6 cloves garlic, chopped or minced
• 1 TB red chili powder (if not okay with spicy, refer to notes)
• 1 TB ground cumin
• 1 TB Hungarian paprika powder
• 1 TB powdered un-sweetened cocoa powder
• 2 tsp oregano – fresh or dry
• 2 tsp thyme- fresh or dry
• 12 oz ground veggie crumbles or turkey
• 2 TB tomato paste
• 1 bell pepper, seeded and chopped (optional)
• 2 cans (14.5 oz each) diced tomatoes or fire-roasted tomatoes, with juices
• 2.5 cups not-chicken or veggie broth
• 2 (14 oz each) cans black beans or red kidney beans, rinsed well and drained
• 1/2 cup pure pumpkin puree – or steam half a pumpkin and add that
• salt and freshly ground black pepper
• shredded cheese (or vegan cheese) for topping (optional)
• Cilantro for garnish (optional)
INSTRUCTIONS:
In a large heavy pot or Dutch oven, heat olive oil until hot. Add onion, celery and carrot (add a pinch of salt) and cook for at least 5 minutes. Add garlic, thyme, oregano and cook for about 30 seconds. Add chili powder, cumin, stir to combine for 10 seconds.
Add ground turkey or veggie crumbles to pot and sprinkle 1 tsp salt over it; cook/stir to break up into small pieces. When turkey is cooked through (veggie crumbles are already cooked), add tomato paste and stir 30 seconds. Take off heat and add cocoa powder and Hungarian paprika powder.
Add pumpkin and zucchini, beans, fire-roasted tomatoes with juices, and broth. Bring chili to a simmer; simmer covered for 20 minutes.Take lid off and cook for a further 10 min. Remove from heat. Add additional salt and freshly ground black pepper to taste. Serve warm, with shredded cheddar cheese and cilantro if desired.
NOTES: This chili comes out with a bit of a kick. If you have people in your family who do not like spice (heat), either reduce the amount of chili powder or emit it all together. Instead use more Hungarian paprika powder for flavor!