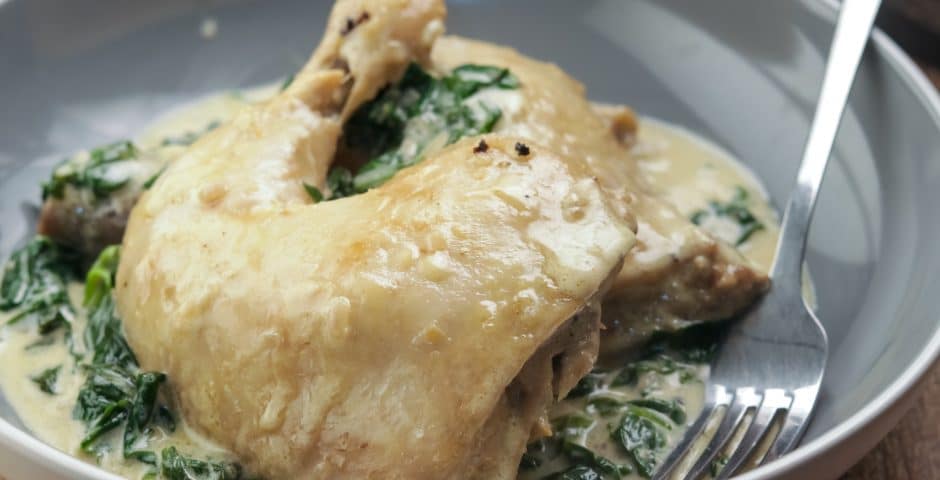 Chicken Florentine Skillet – Low Carb/Keto
This recipe is from the Custom Keto Diet. Their "Done For You" keto meal plans are completely customized based on your food preferences and weight loss goals. You can visit their website www.customketodiet.com get-diet to start creating your plan. Simply follow it to achieve a successful Keto diet! 🙂
Chicken Florentine
Craving a hearty meal that is rich in flavor and easy to cook? Then this Chicken Florentine will definitely satisfy you!
You can prepare this meal even if you struggle with cooking. Perfect to serve at dinner time with your loved ones. Serve with rice, vegetables or potatoes!
 —————————-‐——————
Preparation time: 5 minutes
Cooking time: 30 minutes
🍽 Servings: 4
Ingredients:
4 Chicken leg quarters (about 3 pounds – you can also use breasts if you prefer)
3 Tbsp Butter
3 Tbsp minced Shallots
2.5 cups Chicken Stock
1/2 cup Tbsp Heavy Cream
2 cup fresh Spinach
Salt and Pepper, to taste
Procedure:
1) Melt butter in a pan then sprinkle shallots.
2) Add chicken on top of the shallots. Season with salt and pepper.
3) Add enough stock to barely cover the chicken. Bring to a simmer.
4) Cover and poach over low heat for 20-25 minutes.
5) Take chicken out of the pan and set aside.
6) Reduce pan juices to approximately 1 cup.
7) Add spinach and heavy cream. Simmer over low heat until sauce is slightly thick.
8) Return chicken into the pan.
9) Serve hot.
➡️ Nutritional Information (per serving):
Energy – 507 kcal
Protein – 53g (44%)
Fat – 30g (53%)
Carbohydrates – 4g (3%)
Free Resources!
Never worry about what to eat next on Keto! Receive hundreds of FREE Keto Snack Recipes here
Need help to keep on track and remember what you should be doing on Keto to be successful? Use this free cheatsheet!
Receive your FREE Keto Cheatsheet here