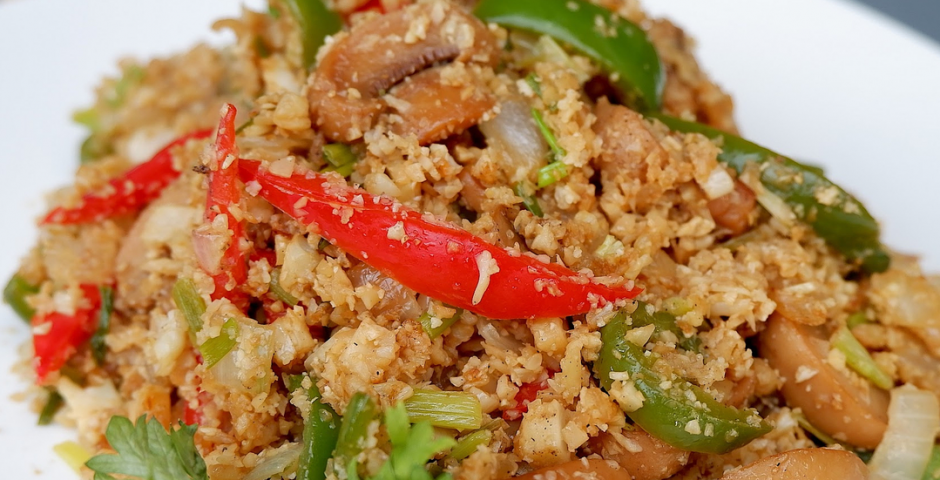 Delicious and Easy Keto Cauliflower Rice Recipe
This recipe is from the Custom Keto Diet. Their "Done For You" keto meal plans are completely customized based on your food preferences and weight loss goals. You can visit their website www.customketodiet.com get-diet to start creating your plan. Simply follow it to achieve a successful Keto diet! 🙂
Easy Keto Cauliflower Rice
Looking for a quick meal fix? Cauliflower rice is easy to prepare, and cook, not even taking 30 minutes to complete. A great alternative to fried rice. A healthy and nutritious meal, this is a great option for breakfast or anytime really!
 —————————-‐——————
Preparation / cooking time: 20 minutes 
🍽 Servings: 1
Ingredients:
2 Tbsp Olive Oil
1 cup Mushrooms, sliced
1 Garlic Clove, chopped
1/2 Onions, diced
1/4 Red Pepper, sliced
1/4 Green Pepper, sliced
1/2 small Cauliflower, in florets
1 tsp Coconut Aminos
1 Tbsp Green Onion, chopped
Salt and pepper
Procedure:
1) Process the cauliflower florets into rice using a food processor.
2) Heat a non-stick pan and add olive oil.
3) Add mushrooms and saute until brown.
4) Add garlic and saute until fragrant.
5) Add the onions and cook until translucent.
6) Add peppers and cook until bright in color.
7) Add the cauliflower rice and mix until thoroughly combined.
8) Drizzle with coconut aminos.
9) Top it with green onions.
10) Lastly, season it with salt and pepper. Serve.
Enjoy! 
➡️ Nutritional Information:
Energy – 388.9 kcal
Protein – 7g
Fat – 30.9g
Carbohydrates – 20.7g
Free Resources!
Never worry about what to eat next on Keto! Receive hundreds of FREE Keto Snack Recipes here
Need help to keep on track and remember what you should be doing on Keto to be successful? Use this free cheatsheet!
Receive your FREE Keto Cheatsheet here