DIY Nail Hack for Busy Moms
As a mom, sometimes looking polished becomes an impossible task in between diaper changes, feeding the kids, cleaning the house and all the other responsibilities mothers have to take care of. Luckily, there are tons of products on the market making it easier these days.
How many of you can't find the time or energy to paint your nails or get a manicure? We've got you covered with the best product on the market, Color Street!
Color Street was created by Fa Park in New York City. He wanted to find a solution for those who just don't have the time to get their nails done.
He created revolutionary nail polish strips that are dry at the top but moist enough on the bottom  to adhere to the nail. Color Street offers a huge range of various colors, from solids and glitters to different artistic patterns. They even offer the classic French Manicure.
The strips are easy to use, you simply place it on top of the nail and scrape off the excess around the sides. They can be stretched for the perfect fit as well. Voila! You have a glossy finish, fresh manicure in minutes. Yes! It's that simple!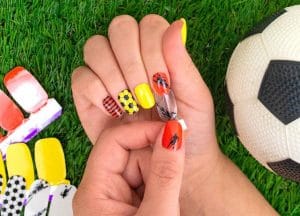 The days are over where you have to sit in front of the fan waiting for your nails to dry or risk bumping into something and messing up your fresh manicure. Color Street is the perfect solution for the busy Mama having to tend to the family duties.
The strips last about 10 days and are easy to remove with nail polish remover. Another great thing about Color Street is that they reward women with incentives if you host a nail bar. You can invite friends over and share their products and get free and half-priced products, free shipping, and other special offers!
The strips are a fun, simple way to look good and feel good! Time to stop hiding your chipped or unpolished nails! Grab some strips, apply and go show off that gorgeous manicure! Best kept secret around! 
You can find more info at: www.colorstreet.com
You can also buy some Color Street Nail Polish Strips through Amazon.