Healthy Home: Take Toxins out of Your Kitchen
Many parents put locks on cabinets that contain chemicals when they have children in the house. Unfortunately, using these products can harm you as well. You breath them in and they get absorbed by your skin.
Learn to identify your household toxins and find new ways to clean and keep your environment safe!
Your home has to be clean – that's a given. But, many of the products that we use can have side effects. Let's take another look at that cabinet under the sink.
Household Cleaners
Are those household cleaners under your sink? Take a look at their labels. There are products that are non-toxic and biodegradable. They usually are phosphate free. This reduces the possible irritation to your skin, eyes and lungs. They are also safer for the environment.
This includes dishwashing liquid and liquid dish soaps, multi purpose sprays and so on…
Some of the brands that are safe, work very well, and are our favorites:
Or for other cost effective cleaners in an empty spray bottle: Dilute white distilled vinegar with water (50/50) and use this as a very effective cleaner. Awesome for glass and windows especially!
You can also use eucalyptus oil/or tea tree essential oil diluted with water (these disinfect and smell great too). 
Recipe:
Use Baking Soda or Bon Ami scrub your sinks/ovens.
Sponges
Do you have sponges down there? Most sponges harbor bacteria from cleaning up food around the sink and the stove. Reusing them is actually spreading bacteria and not removing it. If using sponges, wash them in the dishwasher regularly and replace them often.
You may with to try these alternatives instead: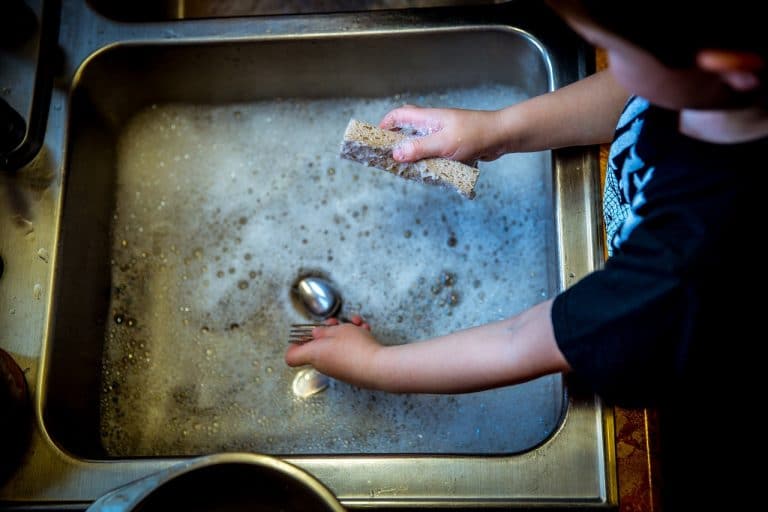 Cans
Are you one who likes to store foods in their original packaging? This may be okay for some things, but not for cans. Cans are made of metal and that metal can also leech into the food that you leave in the can in the fridge. Always store food in approved containers and seal tightly. Try to get as many cans BPA free as possible.
Bugs
Do you have bugs in your kitchen? When the weather gets warm it seems like they come out of the woodwork – literally. Instead of spraying bug killers or setting off bombs that will render your entire home a toxic dump, do a little extra cleaning in places where they hide. Use natural bug deterrents like mint leaves, cinnamon, or boric acid to keep the persistent ones away.
Insect Repellant Spray:
Dishes
Take a look at your dishes. When the covering starts to peel, it is time to get rid of them. These particles can flake off into your food. Besides, when dishes start to get rust stains they can also be hazardous to your health.
How is your kitchen looking? If there are hidden toxins, work to get rid of them to keep you and you loved ones healthy!