Holiday Vegan Wellington Recipe – Mother's Lifestyle Kitchen
Delicious Vegan Wellington made with a layer of caramelized onions, smoked tofurky slices, portobello mushrooms and kale. Topped with the BEST EVER wine-mustard gravy! Seriously, you will want to put it over everything.
The recipe makes 2 Wellingtons. Enough for a large family of 8 or you can freeze the extra one if you wish!
I had an amazing time making this video with my husband, thanks to him for helping create this tasty Thanksgiving and Christmas meal idea. Also, for filming and editing this video.
We hope you enjoy this recipe and Happy Holidays to you and your family!
Love,
Sylvia, Bill, Zimmaron & the rest of the Mother's Lifestyle team!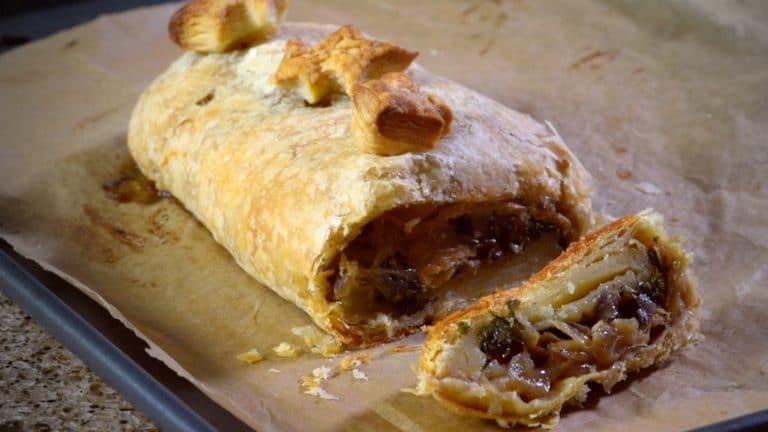 Serves 8 (makes 2 Wellingtons)
Cooking Time 45 mins
Prep Time 20-25 mins
Ingredients:
2 sheet puff pastry (1 extra sheet if you would like to make decorations)
2 medium onions finely sliced
1 pack Tofurky smoked turkey deli slices
3 Portobello mushrooms
4 Sprigs Fresh Thyme (tie together with string- makes it easier to take out)
3 Garlic cloves – whole peeled
1 bunch of Kale
Earth Balance (or any vegan margarine you like)
5 Tbs Olive Oil
1/2 cup vegetable broth or Better Than Bouillon Vegetarian not chicken base stock
Wine-Mustard Gravy:
3 tablespoons earth balance
2 shallots, thinly sliced
4 tablespoons all-purpose flour
1 cup white wine
2 cups not-chicken stock (I love the Better Than Bouillon Vegetarian not chicken base)
1 tablespoons agave
1 heaping tablespoon whole-grain mustard
Kosher salt and freshly ground black pepper
Egg Wash:
1-2tbs earth balance, melted
Method:
Thinly slice the onions and add them to a warm pan on medium low heat with 2 tbs olive oil and a pinch of salt and pepper. Takes around 15 mins, however, it is worth getting that sweet, gorgeous flavor of caramelized onions.
For the wine-mustard gravy: melt the butter in a medium saucepan over medium heat. Add the shallots and cook until soft. Add the flour and cook for 1 minute. Whisk in the wine and cook until completely reduced. Add the stock, turn up the heat and cook, whisking occasionally, until thickened and the flour taste has been cooked out, about 5 minutes. Remove from the heat, whisk in the agave and mustard and season with salt and pepper. Keep warm.
At this point, get your puff pastry out to start thawing…and preheat your oven to 425F.
Portobello mushrooms. Clean by using a damp paper towel and then slice them. Add to pan with 2 tbs olive oil and 1 tbs earth balance. Add the sprigs of thyme and garlic cloves. Cook slowly. Add stock to help cook if needed. Once cooked remove the thyme and garlic. If you wish, add some of the thyme by taking the leaves off the sprigs and adding to the mushrooms (worthwhile doing!)
Next prepare the kale. Take off the stems and chop finely. Add to sauté pan with 1 tbs olive oil, pinch of salt and pepper and cook till wilted. Add a bit stock to help cook.
Next, here is the fun part – assembling your wellington! If your puff pastry is too thawed just put it in the fridge for a couple of minutes.
Place parchment paper on your baking tray. Place your puff pastry, add a layer of onions, next the tofurky slices (at least 2 layers, more if you wish), add gravy, the mushrooms and then kale.
Now Roll. Wrap and press down to get any air out. Decorate and add wash if you like (see note below).
Chill for an hour…this will help makes pastry puff up more.
Cook for 15 mins at 425F and then 350F for 30 mins. Wait 5 minutes before slicing. Add Gravy. Serve with mashed potato and green beans or your favorite sides. Enjoy!
Note: If you are going to do the criss-cross pattern make sure you push down quite hard, otherwise they disappear during the cooking process.
At times, I have had the wellington brown better without the wash! So…this may be a hit or miss 🙂 however it always looks beautiful either way.
Pinterest: https://www.pinterest.com/motherslifestyle
Instagram: https://www.instagram.com/motherslifestyle
Twitter: https://twitter.com/ItsAMothersLife
Facebook FanPage: https://www.facebook.com/MothersLifestyle
Facebook Group: https://www.facebook.com/groups/motherslifestyle
Hope you enjoyed this video, Happy Holidays!