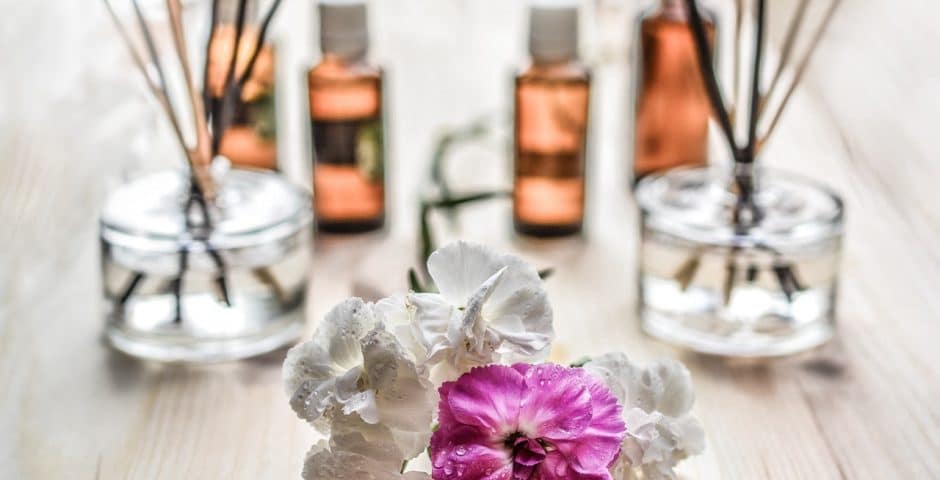 How Aromatherapy Is Used to Help Treat Certain Conditions
What is Aromatherapy?
Aromatherapy is a way to treat medical conditions in a natural and holistic way without introducing chemicals and drugs into the body. It involves using naturally extracted aromatic essences (essential oils) of plants to treat a person's symptoms. It enhances both physical and emotional health. 
Like all holistic therapies, aromatherapy seeks to strengthen  the body's own innate self-healing ability, aiming to restore balance, bot physically and psychologically
   – Beth Jones (author of 600 Aromatherapy Recipes for Beauty, Health and Home)
The idea of aromatherapy was first thought of by a French perfumer and chemist named Rene-Maurice Gattefosse. He wrote a book about it called Gattefosse's Aromatherapy, in which he discusses the clinical findings about using smells to treat medical conditions in a natural and non-invasive way.
What can Aromatherapy be used for?
Research has shown the effectiveness of aromatherapy for many conditions, including health, beauty, cleaning, and even new hair growth!
Other than the potential for allergic reactions in some individuals, using aromatherapy has been shown to be both effective and safe. Aromatherapy involves using extracts from plants called essential oils, by either breathing them through your nose or putting them on your skin.        
Sensible use of essential oils can be used for babies and children, with caution, and always with diluting them! For example, you could add it to a bath. To do this, you do not need to use a lot–a single drop of chamomile or lavender diluted in a few teaspoons of carrier oil– may ease minor discomforts and aid sleep.  Make sure you always keep essential oils away from eyes.                                                                                                                     
Properties
Where all oils are antiseptic, some also contain one or more of the following properties: anti-sudorific, anti-viral, anti-bacterial, anti-inflammatory, anti-rheumatic, anti-spasmodic, calming, relaxing, carminative, cicatrisant, expectorant, sedative, laxative, diuretic, anti-depressant and depurative.
Always do an allergy test before trying a new essential oil and always dilute the oil with a carrier oil.
To do an allergy test:
Dilute the essential oil in a carrier oil at twice the concentration you plan to use. When applying them directly to the skin you may need to dilute them with a carrier oil of choice, such as: fractionated coconut oil or jojoba oil.
Rub the mixture into an area the size of a quarter on the inside of the forearm
If there is no allergic response within 24 to 48 hours, it should be safe to use.
Quality…not all are created equally!
You also need to make sure the quality of oil you are using is labeled: 100% pure essential oil. Make sure the supplier clearly states:
Country of Origin
The Botanical Name of the Plant
The Part of the Plant used
The Method of Extraction
Whether the Plant is Wild or Organically Grown
Inhalation: the oils evaporate into the air using a diffuser, spray, or breathed in, for example, in a steam bath.
Apart from providing a pleasant smell, aromatherapy oils can provide respiratory disinfection, decongestant, and psychological benefits.
Different essential oils can treat different or various conditions, I have named only some of the conditions these oils help with:
* Basil:  A sweet, spicy floral smell that is used to help treat fatigue and make you feel more energetic. If you are often tired in the morning, try using basil to feel uplifted. Helps clear the mind and aids in concentration. Great for the skin too and many other conditions!
* Bergamot: I especially love the citrusy scent of this one! It helps ease the nervous system , tension, anxiety and depression. Helps to relieve colic too.
* Sandalwood: Can help with anxiety, coughs, diarrhea, indigestion, insomnia, nausea, sore throat. Additionally, sandalwood essential oil is said to enhance libido, improve mood, and relieve stress
* Cedarwood:  Not to be used during pregnancy. The smell is woody and warm which can help a person calm down and feel stronger. This is often used to treat anxiety, stress, acne, hair growth, scalp issues, bronchial and urinary tract infections and cystitis.
* Roman Chamomile:  Some of its uses are for, anxiety, depression, insomnia, anger, digestive issues, muscular aches and pains, menstrual disorders or pain, teething troubles, headaches and also stimulates the production of white blood cells.
* Eucalyptus: My favorite!  This aroma is often used to treat common cold sinus symptoms and also freshen the air. The smell is unique and recognizable immediately.
*Frankincense: This is quite expensive, however, I treat myself to some every now and again. I love adding it to my facial moisturizer. It has helped the scarring I have on my on my face fade tremendously! There are so many benefits to this oil: Helps boost immune system function and prevents illness, helps reduce stress reactions and negative emotions, may help fight cancer or deal with chemotherapy side effects, heals skin and prevents signs of aging–to name some!
* Grapefruit: I use this in coconut oil to help prevent cellulite on my thighs. Love it! Great for depression, lethargy, self-doubt, confusion, envy or jealousy.
* Lavender: Often used to calm anxiety and make people feel more relaxed. Youíll see this scent used a lot in night-time bath, lotion, and baby preparations.
* Lemon: If you are tired a lot and depressed, try using lemon oil to brighten up your day.
* Peppermint: This scent can be used to wake you up and give you more energy.
* Rosemary: This scent is strong and fresh and often thought to improve memory. Excellent brain stimulant. Use for headaches, migraine and rheumatism.
* Rose: Devine! Excellent for female reproductive system, cleansing, purifying and regulating. Said to increase semen production. Calms nervous system.
* Ylang Ylang:  From flowers of the cananga tree, this smells a lot like jasmine, and is often used to treat sexual dysfunction.
The aromas you use will depend on the issue you want to treat. The best way to be sure if you are using the right combinations is to seek out a certified aroma therapy specialist who has been trained to provide the right guidance. Usually, these professionals are chiropractors, nurses, massage therapists or other caring professionals in addition to aroma therapy professionals.
"This information is not meant to serve as medical advice. If you have any concerns or are experiencing symptoms of any kind, please consult with your physician."