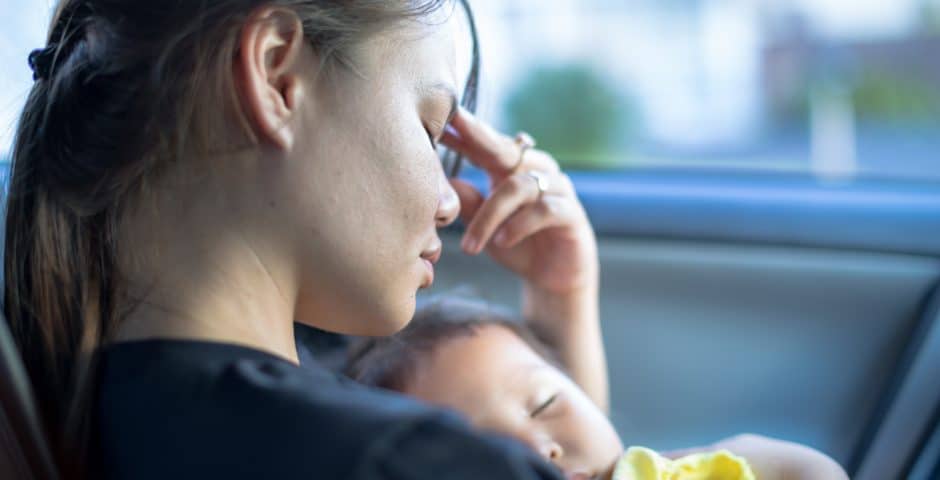 How I Got Through Postpartum Depression
Did you know that postpartum depression is a mood disorder that can affect women after childbirth?
Mothers with postpartum depression experience feelings of extreme sadness, anxiety, & exhaustion that make it difficult for them to complete daily activities for themselves or others.
I can't believe it's been 1 year and 5 months since I gave birth! Almost a year and a half postpartum and I want to talk about Postpartum Depression.
I never experienced PPD after giving birth to S (my daughter now 4 yrs old), I really didn't know anything about it and I really didn't understand it at all.
(Me, heavily pregnant!)
After giving birth to Baby H last year (my surrogate baby), I experienced PPD full force. I didn't even know I was experiencing it. I was tired and moody all the time, most days I wanted to lay around and nothing excited me anymore, I was extremely emotional & had dark thoughts constantly. I was very unhappy & I had no idea why.
Finally it was brought to my attention by my mum (so grateful for her help along the way). I chose to change a lot of things in my life, I started pushing myself to get out of bed, get back to my healthy diet, surf everyday, talk to counselors, work on my spirituality again, practice yoga & meditate again & do all the things that I once loved before.
When I made my plans for India in October, it motivated me to work harder than ever before. I was able to get out of PPD, did a lot of healing work & finally was in a good head space before the new year.
PPD can happen anytime after birth, even a year or two after & it progressively gets worst if you don't get a handle on it.
✨✨✨✨
Why You Experience PPD
Postpartum depression results from a combination of physical & emotional factors. After childbirth, the levels of hormones (estrogen and progesterone) in a woman's body quickly drop.
This leads to chemical changes in her brain that trigger mood swings. Mothers can experience sleep deprivation which leads to physical discomfort and exhaustion, which can contribute to the symptoms of postpartum depression.
✨✨✨✨
Symptoms a woman may experience include:
*Feeling sad, hopeless, empty, or overwhelmed
*Crying more often than usual or for no apparent reason
*Worrying or feeling overly anxious
*Feeling moody, irritable, or restless
*Oversleeping, or being unable to sleep even when her baby is asleep
*Having trouble concentrating, remembering details, and making decisions
*Experiencing anger or rage
*Losing interest in activities that are usually enjoyable
*Suffering from physical aches and pains, including frequent headaches, stomach problems, and muscle pain
*Eating too little or too much
*Withdrawing from or avoiding friends and family
*Having trouble bonding or forming an emotional attachment with her baby
*Persistently doubting her ability to care for her baby
*Thinking about harming herself or her baby.
Effective Treatments
There are effective treatments for postpartum depression. A health care provider can help with the best treatment, which may include:
*Counseling/Talk Therapy
*Cognitive behavioral therapy
*Interpersonal therapy
*Medication: Antidepressants
These treatment methods can be used alone or together.
Without treatment, postpartum depression can last for months or years. In addition to affecting the mother's health, it can interfere with her ability to connect with and care for her baby and may cause the baby to have problems with sleeping, eating, and behavior as he or she grows.
If you are experiencing PPD, please reach out to someone, get the help you need & if you are the loved one of someone who had a baby, please look out for these signs & encourage them to get the help they need.
It's hard to understand it, even woman dealing with it can't quite understand it, be patient & show a mama some love ❤️ it does get better everyday!!! xxxx
You may also be interested in: Essential Supplements to Help with Postpartum Exhaustion