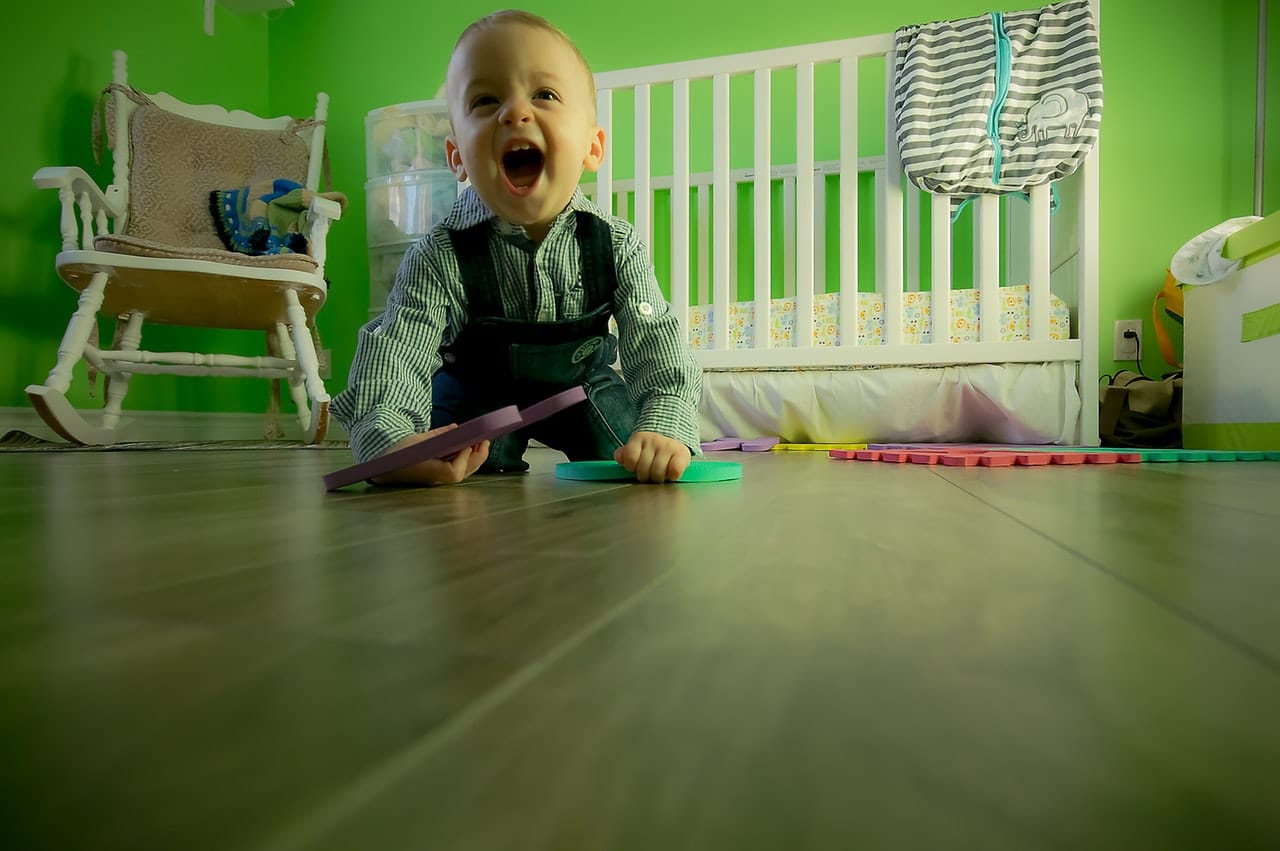 Best Toys to Boost Your Toddlers Development with Child-Directed Play
During early childhood, children learn best through play. It is the building block for establishing confidence, coping abilities, flexibility, and positive interactions with others.
Through play, your child will be able to apply these skills as they grow into a young adult.
What is Child-Directed Play?
Child-Directed play is a special form of one-to-one play between you and your child in which your child directs and leads. Research shows that playing with your child in this way will:
Enhance the child's sense of appropriate control, self-regulation and self-confidence.
Children experience the joy of self-discovery, the freedom to pursue their own ideas without being constrained by a predetermined outcome or a "right way" to do things.
Foster child language and social development

 

To provide an opportunity for the child's access to focused, uninterrupted adult attention and
close contact, without having to rely on negative or provocative behaviors to do so.
Strengthen your parent-child relationship. This allows for more subtle and effective interactions in the future
They naturally develop creative problem-solving skills and positive attitudes in the face of challenge
Encourages curiosity, allows for plenty of experimentation, and aids children in developing a keen sense of observation. Children learn to figure things out for themselves, take healthy risks, cope with failure and persevere in play, practicing necessary foundations of real-life skills.
Children develop the ability to stay engaged in a task or activity for longer periods of time, learn to keep themselves busy and find many ways to do so, are less likely to complain of boredom, and importantly, they are less likely to be over-dependent on their parents.
Trust them
Children are capable beings. Give them space and trust them to know what they need to be focused on and when. By doing this, you are telling them that the things they are drawn to are meaningful and that taking time to explore interests is okay.
"Never help a child with a task at which he feels he can succeed." 
 – Maria Montessori
Your Role In Child-Directed Play
This is time for you to enter the child's world. We should be doing this as much as possible anyway. You do not want to control or guide what your child is doing during this time.
Once it feels appropriate and safe, you can slowly start leaving the room, allowing them to engage in self-directed play on their own for a while. 
AVOID
Commands
Do not give commands regarding your child's behavior or the toys, for example,  "Let's play with the blocks" or "do not get out the tea-set yet." 
Stop telling them to "be careful"
Today, any bump or bruise seems to be seen as a failure of the parent to watch their kids. Nothing could be farther from the truth. Kids need to run, jump, leap, throw, and fall in order to learn how their bodies work, how far they can push themselves, and what happens when you challenge gravity.
Self-directed learners need to experience life fully in order to know what avenues they are interested in exploring.
Not only that, someone screaming "be careful!" while your concentrating on a tricky task is distracting and frustrating.
Instead of "be careful," try saying, "does your body feel safe up there?" or "be aware that there is gap near your foot," then let them be. Obviously if there is a really dangerous situation–intervene.
Changing the Direction of the Play
Do not change the direction of play. This is for your child to decide and maintain or change as he wishes. Refrain from giving your child your play ideas.
Teaching
Child-Directed Play is not a time to quiz your child, rehearse skills, or teach new facts or concepts. Allow your child to play with the toys or materials in any way that is not harmful. Remember, there is no "right" way to play.
DO
Follow the child's play and other behaviors
Locate yourself physically close to the child. If he is on the floor, you will be on the floor. Within reason, move with the child.
Watch the child's play activities closely. Describe what you observe.
Verbally describe some of what your child is doing with the play materials. Be specific. Be brief. Show enthusiasm. For example, "You put the yellow block on the orange block," or "That car is fast!" 
When it is safe and appropriate to do so, you can slowly leave them on their own for awhile too. They may even request to be alone. As the video shows at the bottom of the article, you could create a safe place for toddlers and even babies. For example, with a free standing portable gate and on a blanket. With you not too far away. 
Provide open-ended toys
Toys that can be used in a number of ways to support child-directed play are building blocks, dressing up clothes, puppets etc. Rather than having a single purpose, or a button telling children what to do, these toys all require the children to come up with a game plan, to set the terms of engagement. That is how self-direction starts.
Ask questions
If children are finding it tricky to get creative, or get momentum going with a game, resist the urge to swoop in and set the agenda for them. Instead, ask questions to get their ideas rolling:
"How do you think that doll is feeling?"
"What do you think should happen next?"
Self-directed play is all about encouraging children to feel free to explore their thoughts and see where they lead. Play with them if they'd like, but let them know you're following their lead, not the other way around.
When choosing toys, whether to buy or to keep, go for the simplest options. Consider how much instruction and adult supervision your child needs to play with a particular toy, and choose the ones with the least instructions. This allows for the most versatility and longevity.
When it comes to child-directed play…less is more! Make playtime more fun and stimulating with these expert-approved picks for the only toys she/he really needs.
Construction, Creativity, and Motor Development
Chicken Family Puzzle – helps build creativity, imagination and storytelling skills
Matney Kid's Foam Floor Alphabet and Number Puzzle Mat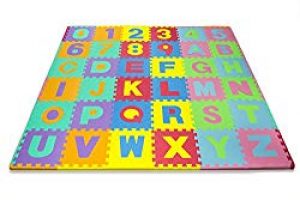 Green Toys Baby Toy Starter Set (First Keys, Stacking Cups, Elephant)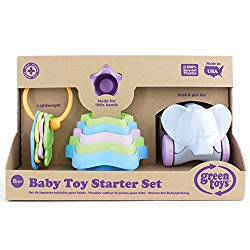 Award Winning Hape Walk-A-Long Snail Toddler Wooden Pull Toy
Melissa & Doug Wooden Building Blocks Set – 100 Blocks in 4 Colors and 9 Shapes
Grimm's Large 12-Piece Rainbow Stacker – Wooden Nesting Puzzle/Creative Building Blocks
Melissa & Doug Standard Unit Solid-Wood Building Blocks With Wooden Storage Tray (60 pcs)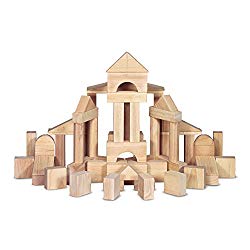 Play–Doh or clay: We love trusty, fun-filled Play-Doh. Kids love creating, making and playing with it! 
Sand Play: Kids can get so creative with sand play. Kinetic sand feels like wet beach sand but won't stick to anything but itself. That means no sand on your hands, clothes, molds, in your hair or in your bag. It leaves your hands completely dry! You can add stones, shells, figurines…different elements to the sand.
Magnatiles – ages 3+ These are awesome. One of the boys I used to Nanny would want to play with these all the time, for years! They are super fun.
Clear Canisters – Kids have so much opening and closing and filling these up with fun stuff!
Tea Set – Includes teapot with lid, 2 cups, 2 saucers, 2 teaspoons, creamer, sugar bowl, and tongs. I like this set because it is easy to store, does not take up too much space, and lasts a long time!
Play Kitchen – Encourages imitative and imaginary play; promotes fantasy story telling, role playing, and creativity.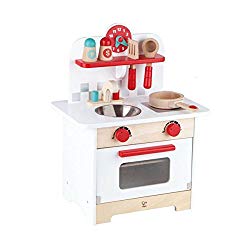 Hand Puppets – These are cute, or make your own sock puppets!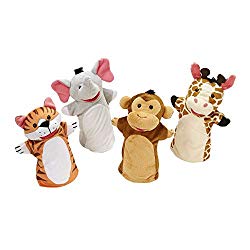 Dress-up Play Scarves: These are great for capes, skirts, blankets, forts etc. Also, save old clothes for the dress-up box, or hunt them down in your local op shop. Hats, handbags, wigs, fancy shoes are all strongly recommended.
Textured Balls – Any ball is fun! However, these fun textured ones are great too.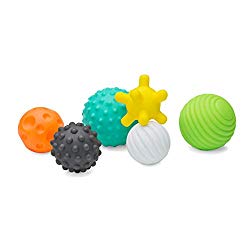 Rainbow Beach Ball– Soft and flexible, these are a great addition to any home!

Musical instruments- Improvising with music is a wonderful way to foster open-ended play. You could play some music in the background too.
Crayons– Give your child some paper and crayons and let them do the rest!

Sidewalk Chalk – Awesome for outside play!
Melissa & Doug Deluxe Standing Art Easel – Dry-Erase Board, Chalkboard, Paper Roller– This can be set up inside or outside!
Tray with loose items – Some people like to collect trays of loose parts to leave out for children. This is of course for older children as some parts may be a choking hazard. Loose part trays might include pebbles, seashells, buttons, bits of string, pieces of tree bark…sticks, whatever looks and feels interesting. You can even include a magnifying glass too!
Make your own 'tent' or 'fort' using spare sheets and blankets.
Comfortable Seat for you! Try this portable floor chair. Saves many sore backs!
Child Gate: Free standing play yard that sets up in seconds and can be used outside or inside on any surface.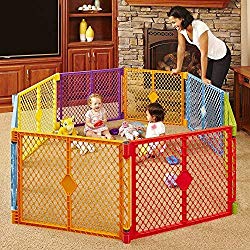 Activity
Super simple game you can make with pipe cleaners and a spice jar with large holes.
Instructions: Make this simple Pipe Cleaner game
Check out this video from Janet Lansbury showing self-directed play at 4 months old and at 2 years old.