Tip for Long-Lasting Foundation Make-Up
Let's talk foundation! 
Before kids, I used to never wear foundation. My skin was smooth, the same color and breakout free. Now, after two babies, I have extreme dark circles, blemishes that pop up every now and then and splotchy uneven patches of color.
I really try not to wear makeup but sometimes I feel an immense amount of anxiety leaving the house with my dark circles and uneven skin tone. I've tried many different foundations and most of them either made my olive skin look orange or gray or left me feeling like I had pounds of makeup caked on my face.
I really do enjoy a soft, natural look and after years of trying to achieve this look on myself I started to give up.  A few weeks ago I decided to try another new foundation just one more time, I picked up a bottle of Maybelline Dream Liquid Mousse Foundation (now called Dream Satin Liquid) at my local drug store. The words liquid mousse spoke to me. If it was anything like the feeling of taking a bite of delicious chocolate mousse I was all in!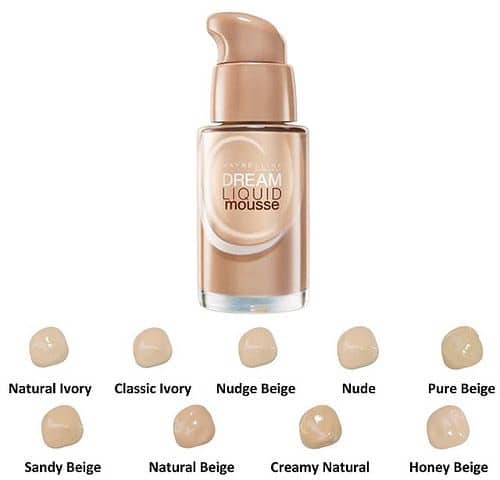 I got home and excitedly pumped the foundation onto my fingertips. It was fluffy coming out and the color perfectly matched my skin tone. I put both hands together, rubbed my fingertips and put them to my face. The feeling was to die for, it literally felt like the softest cream being rubbed all over my face. It made my heart melt, looking at my reflection in the mirror, my eyes were lit up, surprised at the full coverage this foundation gave me.
The best part was that only one layer was needed and my spots that I'm so insecure about, disappeared right before my eyes. It didn't even feel like I was wearing makeup at all. It felt like I rubbed a moisturizer on my face and that's it. I was so skeptical, I figured hat 12 hours later it would become flaky or cakey, even thought that I would have to reapply more throughout the day…nope! Not once did I have to touch up my makeup!
I am beyond thrilled with this new find. It's as easy as rubbing in lotion. I don't even need to powder, it give me the satin, dewey look that I like and it's doesn't break the bank like other brands. Smooth, airbrushed skin achieved!
The serum hydrated and delivers the look of pore Lesa skin. It's lightweight, breathable and delivers cake-free, full coverage that moisturizes up to 16 hours! My beauty routine just got a whole lot easier and now I can leave the house looking well-rested and feeling anxiety free! 
For more information:
https://www.maybelline.com/face-makeup/foundation-makeup/dream-liquid-mousse-foundation
To buy cheaper at Walmart: