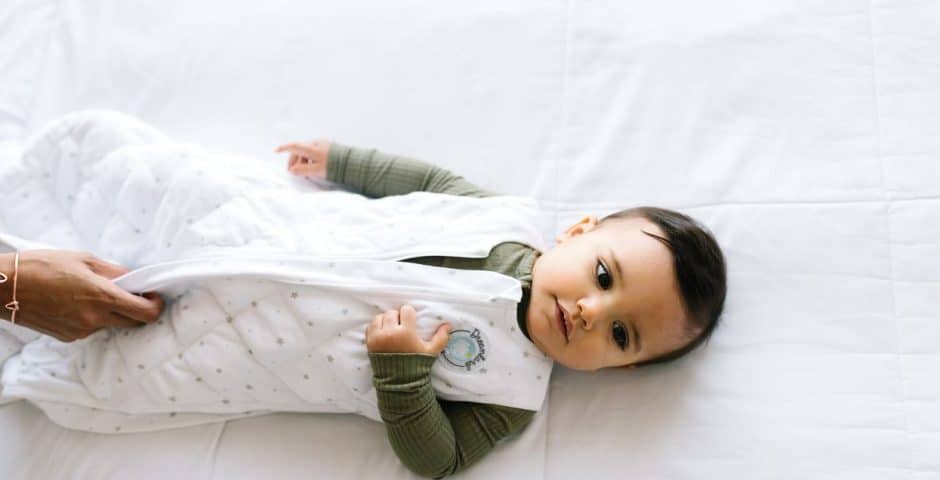 Why this 5-Star Weighted Baby Sleep Sack from "Shark Tank" is a Must-Have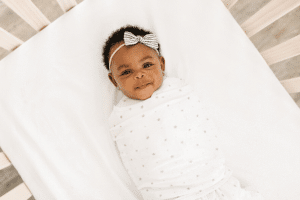 Today I'm excited to share a fantastic new tool to help your baby sleep. Add the Dreamland Baby Wearable Weighted Sack to your parenting toolbox and allow your whole family to receive the sleep they deserve!
Help baby RELAX, fall asleep FASTER & stay asleep LONGER…sound like a dream come true? Well it is, according to many satisfied customers!
At the time of writing, Dreamland Baby has over 230 reviews for an average of 5 stars. Many of the reviews mention babies getting more sleep and more rest for parents.
Here are a couple of verified purchase reviews:
Testimonials
Kaela S.
Verified purchase
8/10/2020
So happy I decided to trust the reviews and get this! My daughter is still in the middle of the 4 month sleep regression so we still aren't sleeping through the night…but I can tell this has made a difference! Especially with our bedtime routine. She's quicker to calm down and actually fall asleep with this on. Less wiggling and getting startled. Also serves as a nice extra layer that I know isn't too hot for her in the middle of summer. Overall very impressed!"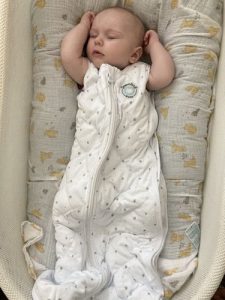 Mckenzie H.
Verified purchase
8/7/2020
Love this sleep sack!! My 4 week old would only sleep on us at night. Since we started using this he sleeps in his co sleeper every night for 2-4 hours. Will definitely be buying another one.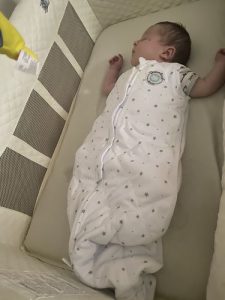 How Does it Work?
The gentle weight increases serotonin and melatonin while decreasing cortisol. Helping babies feel calm, fall asleep faster and stay asleep longer.
Clinically proven to significantly increase calm feelings and improve sleep patterns in a study that investigated newborns and weighted blankets.
Helping infants feel calm, fall asleep faster and stay asleep longer by naturally reducing stress and increasing relaxation.
Why We Love This Product!
1) They look cozy and beautiful 🙂
2) These are the only weighted blankets available for babies on the market!
3) The rounded beads are evenly distributed in tiny, hand-sewn boxes to provide a gentle weight and comfortable texture that isn't found in any other product. This means they won't leak out or bunch up in one area of your blanket.
4) There are swaddle and non-swaddle options for kids 0-12 months. Swaddles are for 0-6 month olds, sleep sacks are for 6-12 month olds.
5) Age Range for Use: Birth (8 lbs+) to 22 months.
6) The wing for the swaddle is removable! This is awesome because it allows babies to wash just the wing or completely remove it if baby rolls over before six months and you don't need it anymore.
7) There are two YKK zippers. One at the top and one at the bottom for middle of the night diaper changes. Phew!!
Are They Safe?
1) They are doctor approved! Designed in partnership with Pediatricians, Neonatal Intensive Care Units (NICU) nurses and Certified Sleep Consultants. Reviewed by Pulmonologists.
2) According to this clinical study, wearable weighted blankets are safe and significantly calmed baby compared to when nonweighted blankets were used. This hospital is now using Dreamland Baby and states our weighted sleep sacks, "subscribes to safe sleep guidelines."
3) Dreamland Baby has exceeded all United States Consumer Product Safety Commission standards plus additional optional testing. They use 100% natural, soft cotton. Their fabrics are not treated with flame retardant. The inner poly pellet beads are non-toxic. They source only the best materials for ultimate comfort and safety.
4) Temperature Regulation: Dreamland Baby is designed from a lightweight fabric with a TOG rating of 0.6. This is on the "lighter" side, meaning our weighted sacks can be used year round in both warm and cool climates.
Dreamland's Story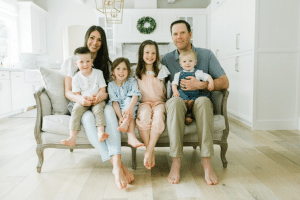 After pitching her idea of a weighted baby blanket called "Dreamland Baby" to the "Shark Tank" crew, Danville resident and mother Tara Williams agreed to a deal with investor Lori Greiner for $100,000 in exchange for a 22.5% stake in the company.
She shared that "At almost six months old, our son Luke was still waking up every hour and a half. Like so many other new parents we were desperate for sleep. One night we placed him under a heavy throw blanket while sitting on our couch. I noticed a calm immediately came over his face. A lightbulb went off in my head: he needs a weighted blanket!
I called my mother-in-law to sew my idea; a lightly weighted sleep sack. The first night wearing our prototype Luke slept 12 hours! We couldn't believe how immediately his sleep was improved. Word quickly spread and I was flooded with requests from family and friends. The idea to bring Dreamland Baby to families everywhere was born."
We love this product so much…which is why we have partnered with Dreamland Baby and are offering 15% off your purchase! Woohoo!
Use this link and you will receive 15% off your purchase automatically at checkout.
Dreamland Baby's Weighted Baby Sleep Sack